At Molas Lake campground, the day before we began our ride, Shy Paul complained that he wanted to ride his bike. This was the last we heard about not riding enough. Last year, we did the San Juan Huts ride for the first and had a blast. This year our goal was to spice things up a bit by maximizing single track along the way, as the standard route is mostly fireroads. We achived this as well as adding more climbing, more miles, more drama and more suffering.
I picked up the East Coast contingent at the airport and we drove up to Silverton where I ditched the car for 10 days. We began with a nice 2 mile spin out of town on pavement before heading toward Bandera Mine and picking up single track from there.
Anch gives a BFTU while Shy Paul gets wet...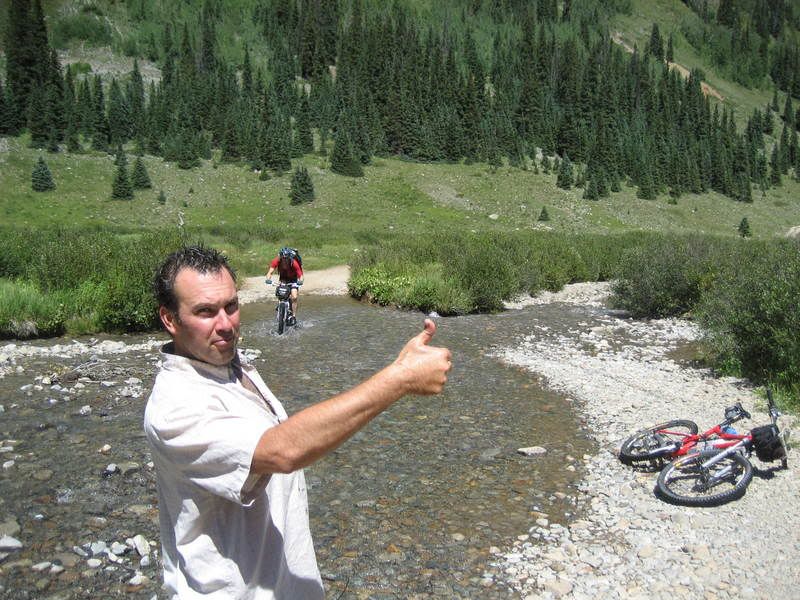 Paul was making waves on TR 507.
The calm...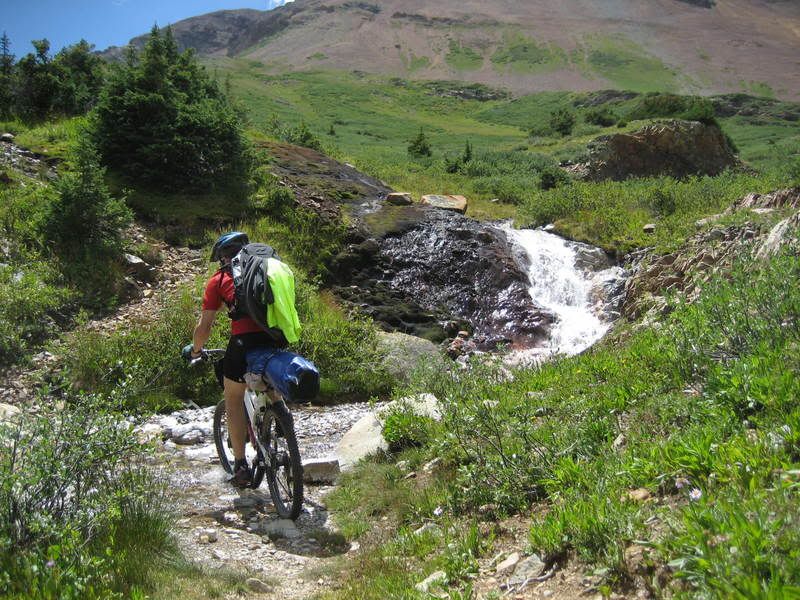 The storm...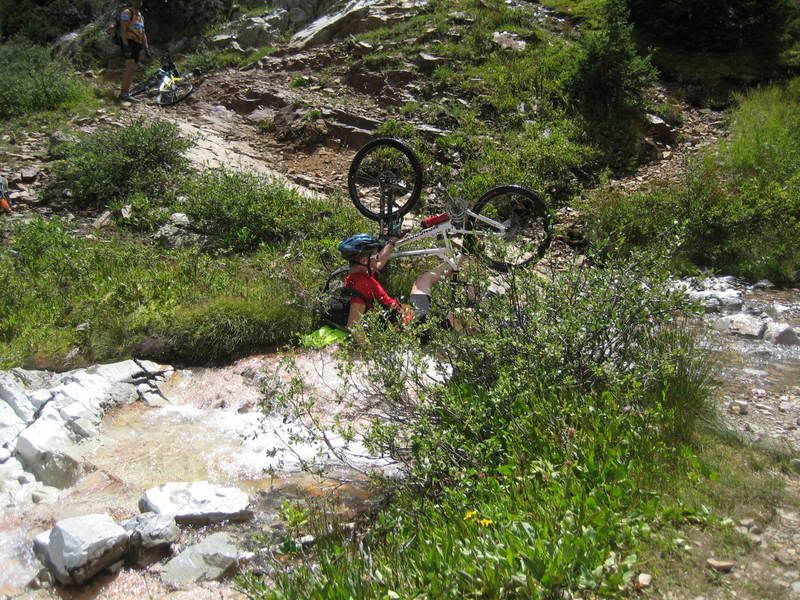 The carnage...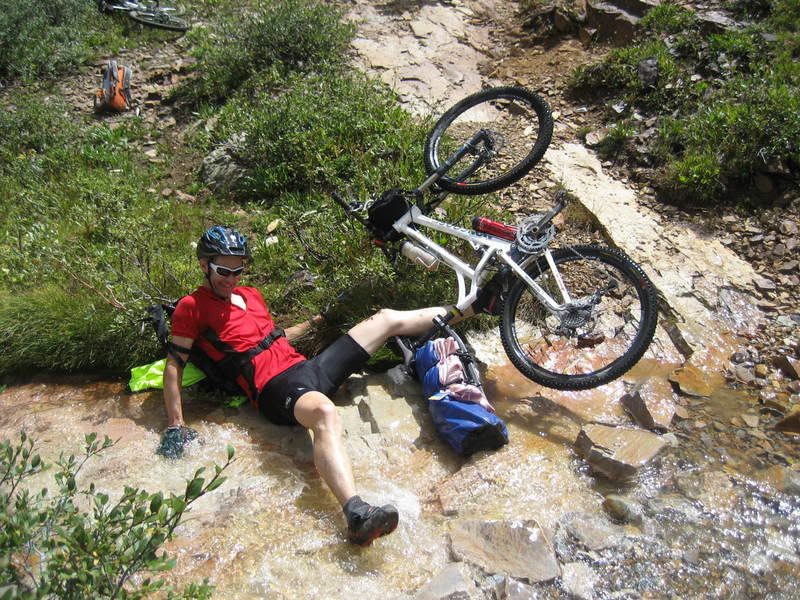 We picked up the CT and headed for our hut at Bolam Pass.
Anch railing a turn on the CT...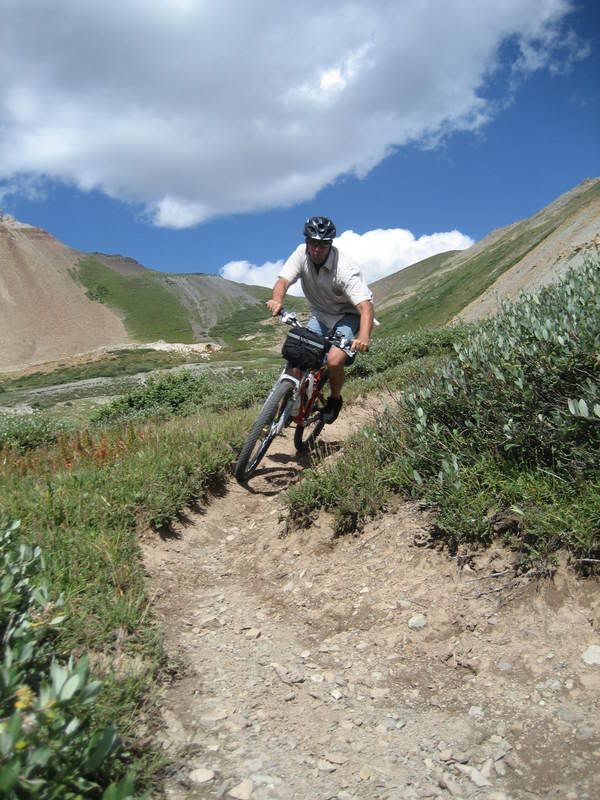 Yours truly with a creek endo...
Second attempt success...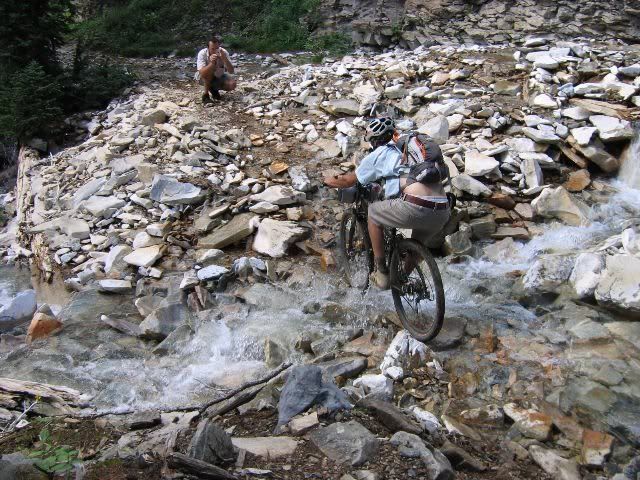 Once again the altitude claimed its victims and the suffering began. Walking and regular breaks were taken. Shy Paul got pretty sick, but carried on. There is not much of a choice.
Anch and Shy Paul take a sit...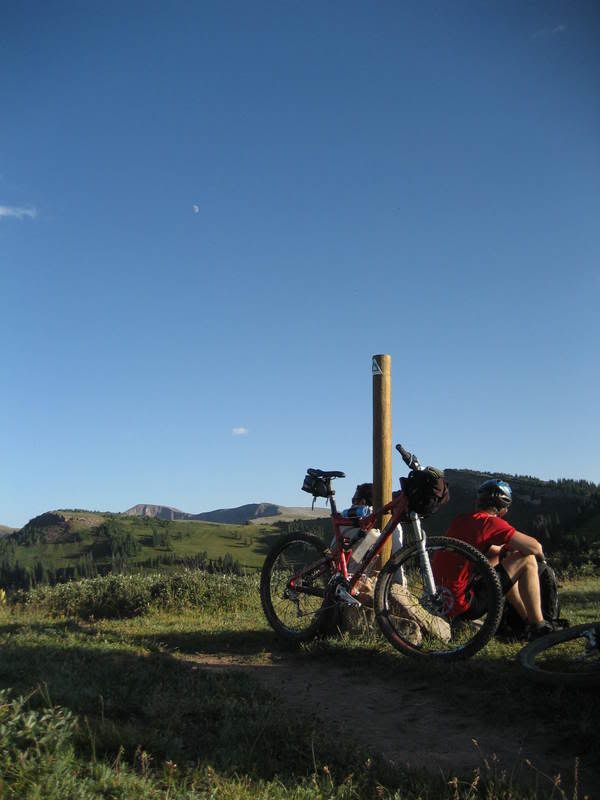 The lot of us made it to the hut, some in better spirits than others. Shy Paul went to bed immediately while the rest of us chatted over some pasta and tea. Bob had been waiting at the hut for some time as he took the standard route and Bruce rode ahead of Anch, Paul and myself to get some food going.
Day 2: The Drama Unfolds
From our hut, we picked up the East Fork single track which I give 5 stars for its varied terrain. Fast and swoopy in sections, very technical in others with numerous tricky stream crossings. One of my favorite sections of the entire trip. :thumbsup:
I try not to get wet...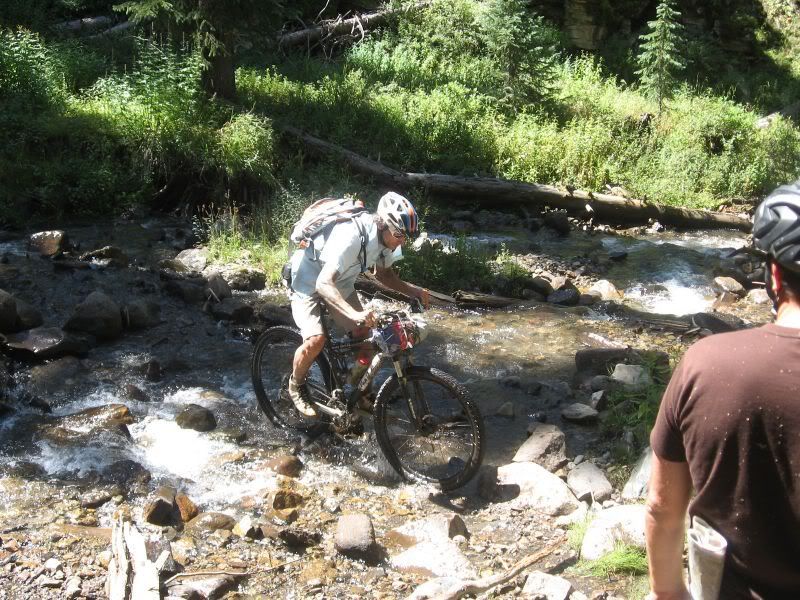 Lil' Bobbi circling the drain...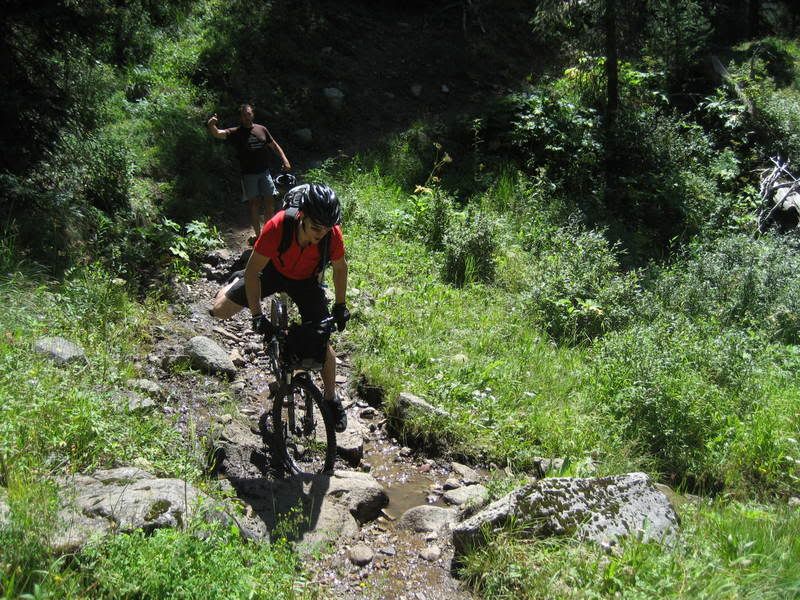 MMmmmm, spamwiches...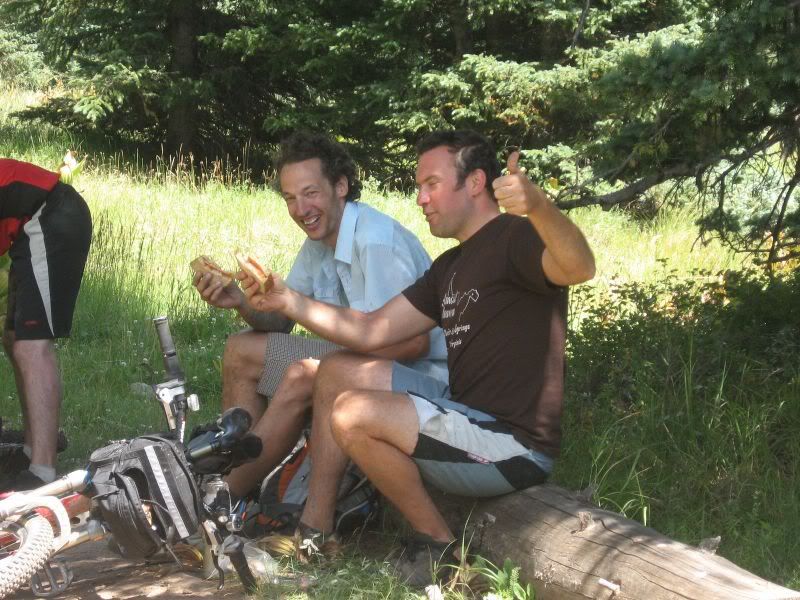 From here, we picked up another single track which appears both on maps and on GPS, but eventually disappears. This created major problems for us as we wasted much valuable time searching for a trail that was no more. At the end of said single track, we had to turn around and back track to within 7 miles of our start for the day. My computer read 20 miles on the day and from where we would be getting on standard route there was over 22 miles left to ride and the sun was setting.
Paul gets by with a little help from his friends...
As the sun went down, the temperature dropped rapidly and out came cold weather clothes. The moon was almost full and provided good light to ride by.
Dinner at Burro Bridge around 10 pm. This was our lunch spot last year...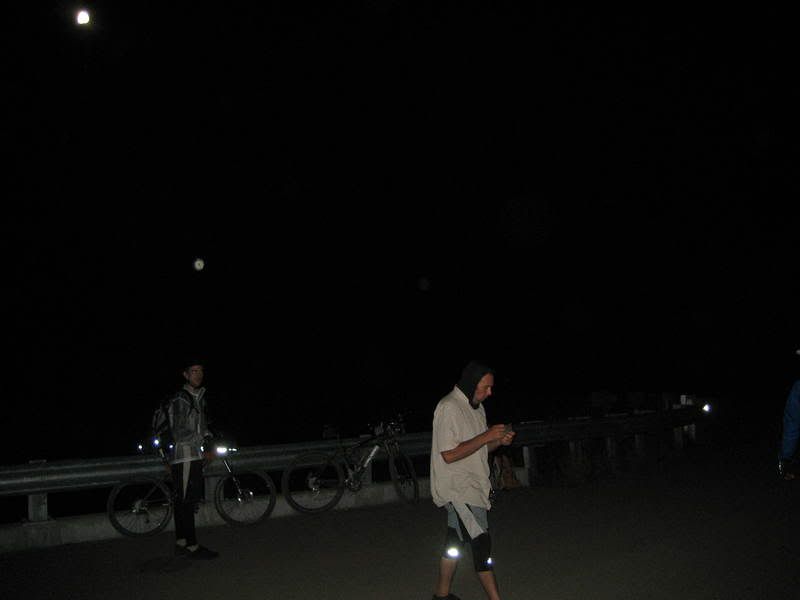 Paul's pace was painfully slow, so Poppa Bear Bruce, Bob and myself made the decision to push ahead. The moon eventually set so out came our lights. After 46 miles and 5200' of climbing, we finally arrived at the hut at 2 AM. I hung my red blinking light in a tree as a beacon, for we spent over 30 minutes searching for the hut once we got there. Bruce whipped up some food and hot water. I occasionally wondered about the others, but there was no sign of them. At 8 AM Anch came rolling in looking haggered. He told us of how he and Paul had hunkered down in a ditch for the night, unable to get a fire going. Anch used his lat 40 as a blanket and Paul probably had something in the 60+ lbs of gear to keep him warm. Nobody knows because at this point he began his 2 days of silence. NOT a happy camper. Note: As was the case last year, the most miserable individual also happens to be be the one carrying the most stuff. On day 5 Paul wised up and ditched the rack and some gear.
Day 3 was a recovery day of 35 miles along fireroads. We dropped down to Miramont Resevoir to wash our clothes and bodies. Beautiful weather on the water so we wasted several hours in the sun.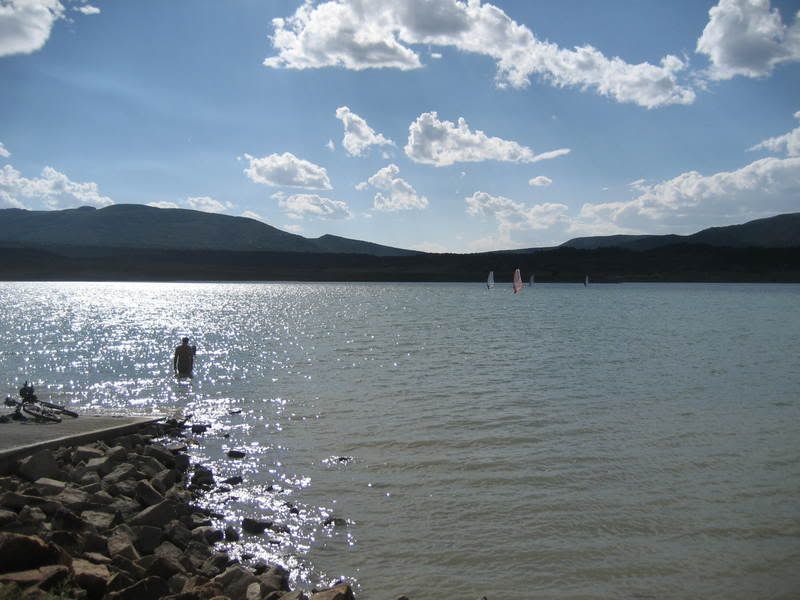 Once we arrived at our hut in the Dry Creek Basin, we hiked up to the mesa to watch the sun set. That night Anch slept under the stars. I was awakened by voices outside late at night. I assumed this was one of the hut guys chatting with Anch as they said they would see us on Day 3. Bruce kept waking up in the middle of the night asking " Whose truck is that?" Nobody answered. Finally around dawn, he asked once again and got a grumpy responce of "Mine!" from the bunk below. The look on Bruce's face was priceless, as if to say, "Not only is there someone lurking around the hut, they are sleeping IN the hut!" I chuckled at this and went back to sleep. In the morning, we would come to find out that the charactor in the hut was the hut boss himself, the kingpin, the man behind the curtain. We chatted over breakfast about single track routes, history and stories of our travels. He even had some friends with him to help do the dishes.
The Big Man's buddies...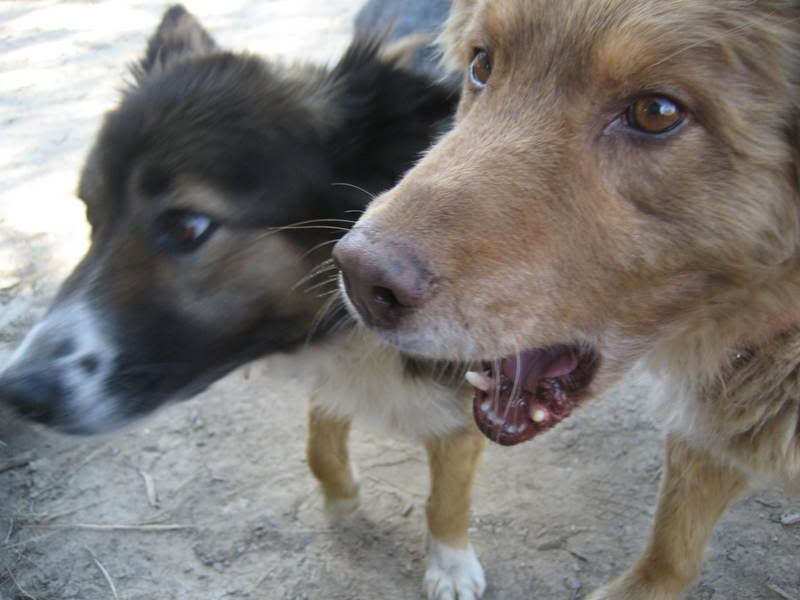 There were 3 alt routes Joe suggested, but told us not to do all 3 because water could become an issue. As luck would have it, Joe was going to be playing around in the area and said he would have some water with him. We started on "Gas Roads" which contians a great half mile single track section.
Poppa Bear on the choice single track...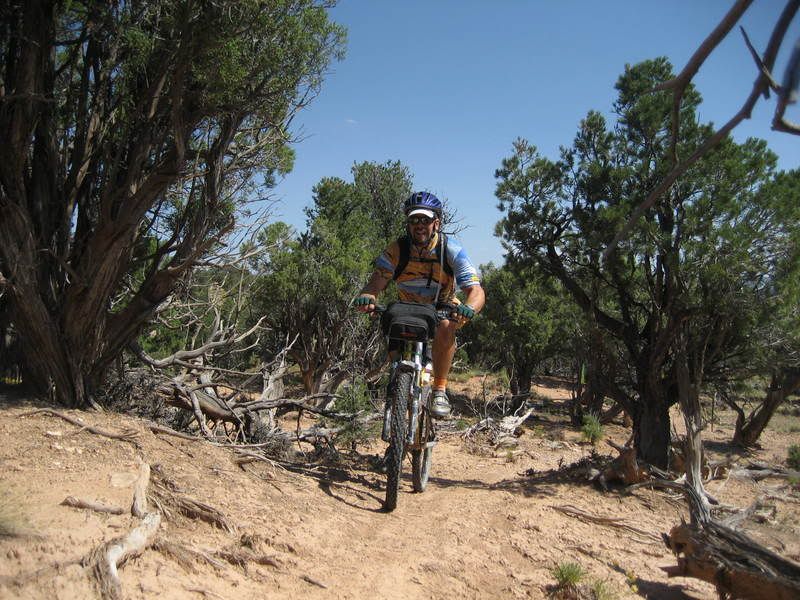 Foolin' on Gas Roads...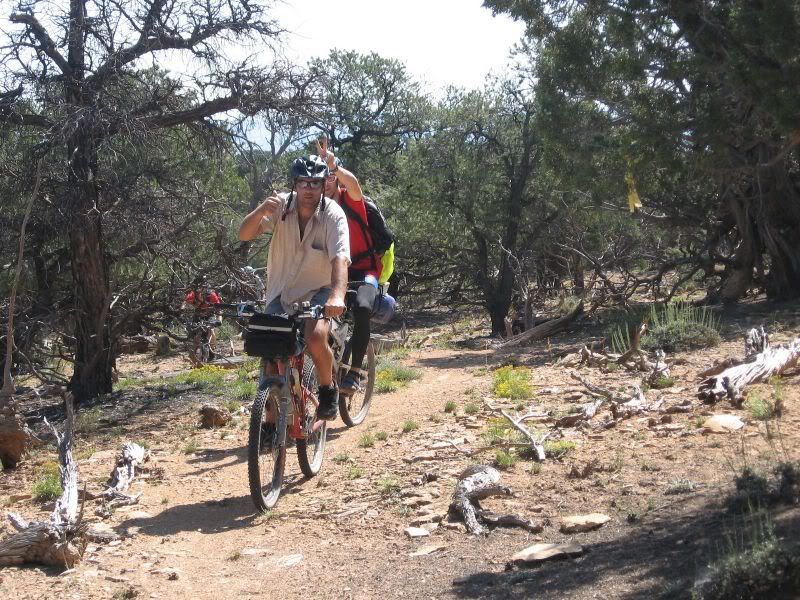 Gas Roads dumps out into Lookout Mines, which appeared to be rarely ridden. trail not burned in and difficult to follow. There was one decent that was much fun and very difficult.
Jack-a-lope bike on the bottom of Lookout Mines...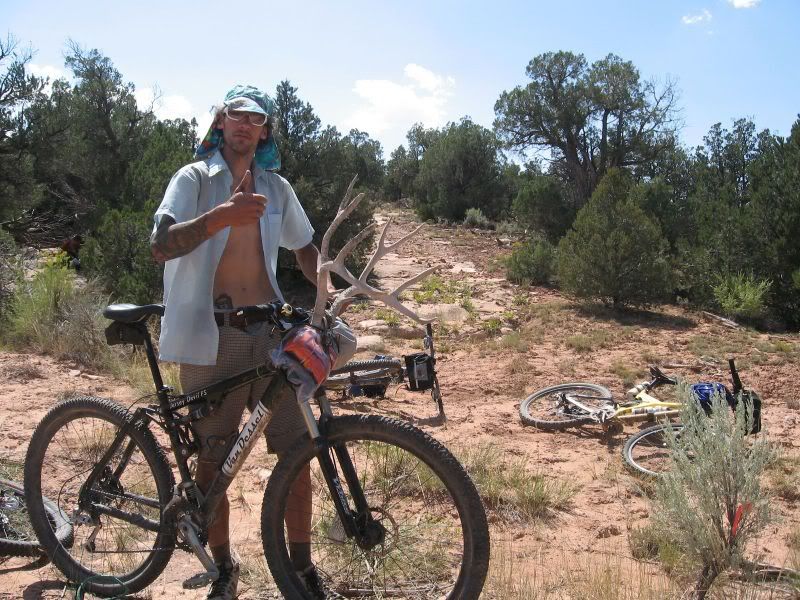 This eventually dumped out in to the Mexico Mines Road which takes you by some old mining structures, including an old shoe cobbler's house.
Had there not been water waiting, we would have been in serious trouble. 38 SLOW miles for the day.
Sunset from the Wedding Bell Hut...
Day 5 was standard route riding the Davis Mesa/ "Ketchump" trail. We did this last year and enjoyed it.
Anch bombs a fire road...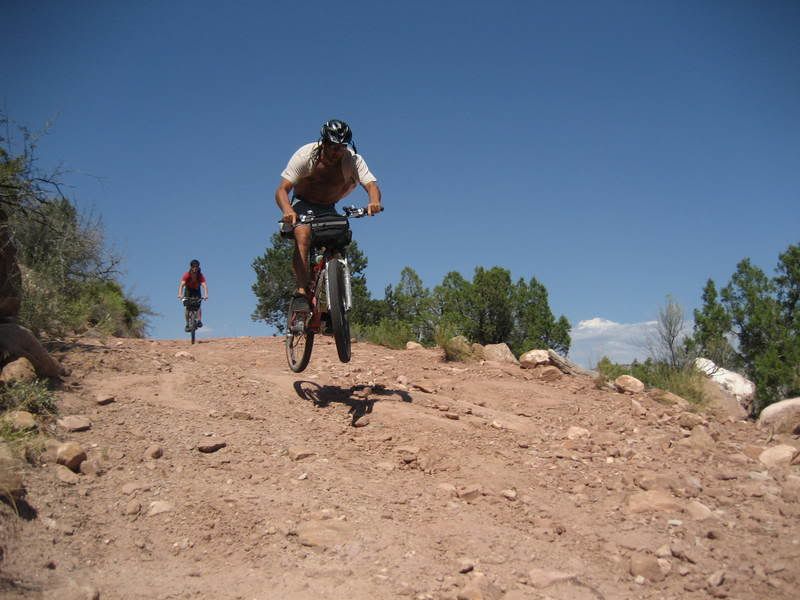 Anch gives Davis Mesa his stamp of approval...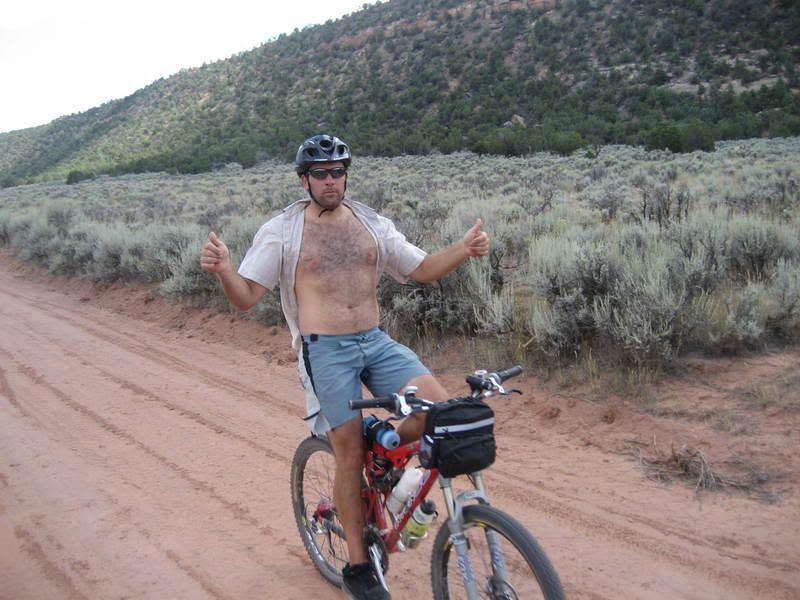 Yours truely laying down some tracks on the infamous "Ketchump" trail...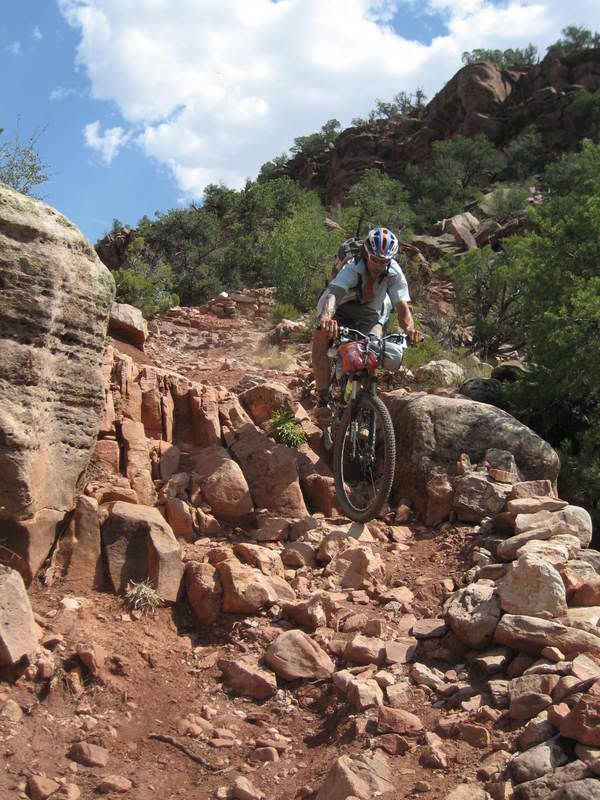 On "Ketchump," you dont look down...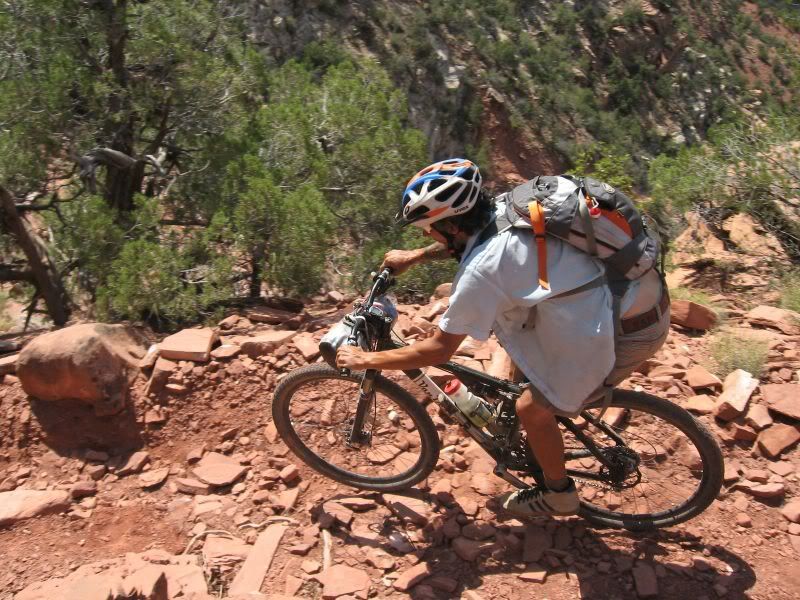 We hung out at the Bedrock store for a while before taking a dip in the Delores. The silt at this swimming hole was shin deep and we got into a mud fight. We all were covered in the silt.
Swamp Thing (check out the thumb) takes the plunge...
Three of us slept under the stars and listened to coyotes throughout the night.
Day 6 began with the hot climb up Carpenter Ridge. I hated this climb last year, but kind of enjoyed it this time around. We swam in the lake just before crossing into Utah, until the storm clouds rolled in. A depression began to set for, as we approached Utah, we got that much closer to the end of our vacation.
A lone rider approaching the La Sals...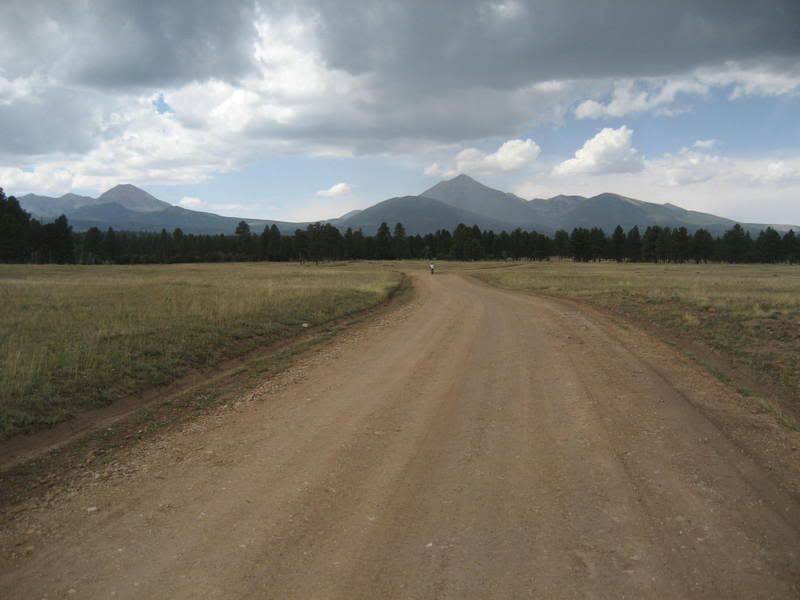 Crossing state lines...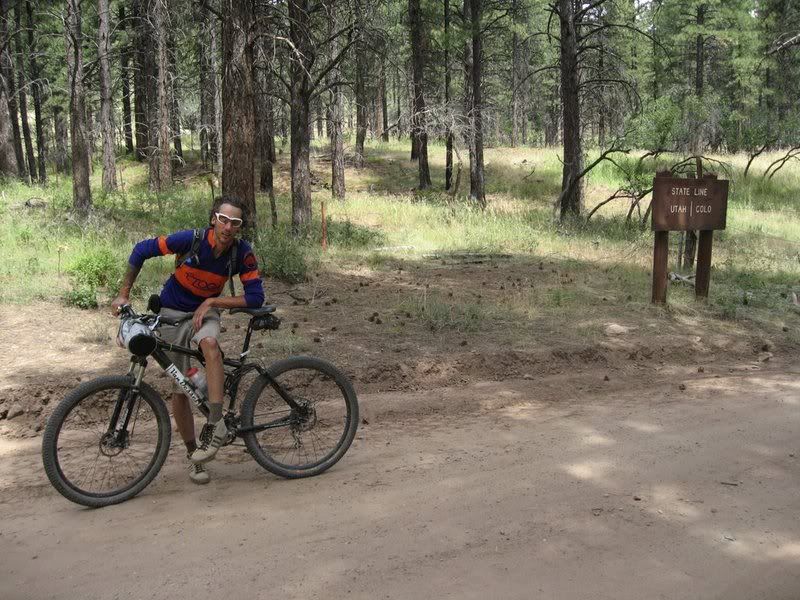 That night in the hut, Shy Paul whipped up these spicey soy/ mustard tuna cakes over wild rice that were by far the best food I had eaten in a couple months. It rained that night and into day 7. Not hard but enough to make everything wet and sketchy. Joe had asked for us to send him our data for Day 7 alt route so I was taking notes. The rain was not a bad thing as it also brought cooler temps and would help us to conserve water on our long decent. We started on the Moonlight Meadows trail which was muddy and packed up our tires.
Rainy day root rollin'...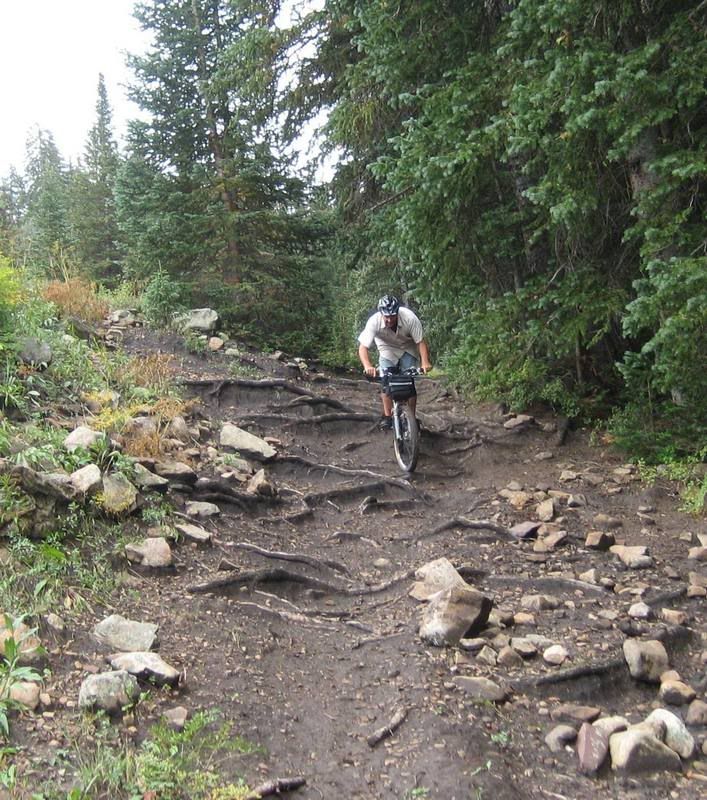 Climbing up toward Warner Lake...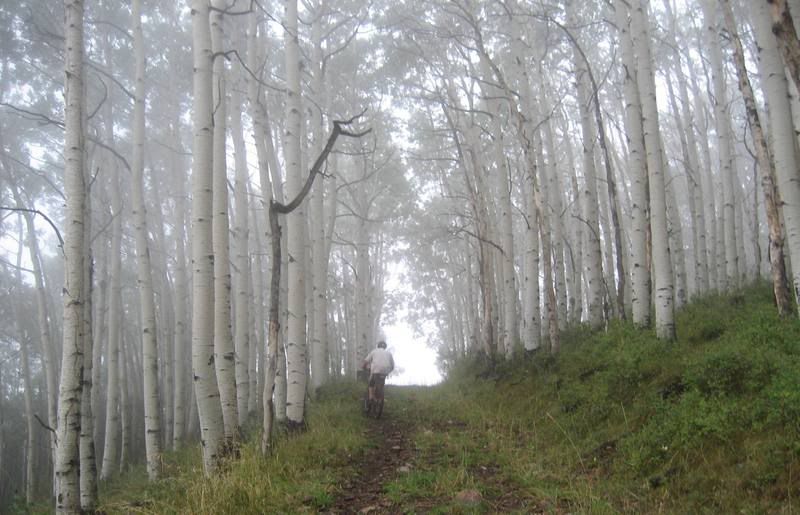 making turns on Hazzard...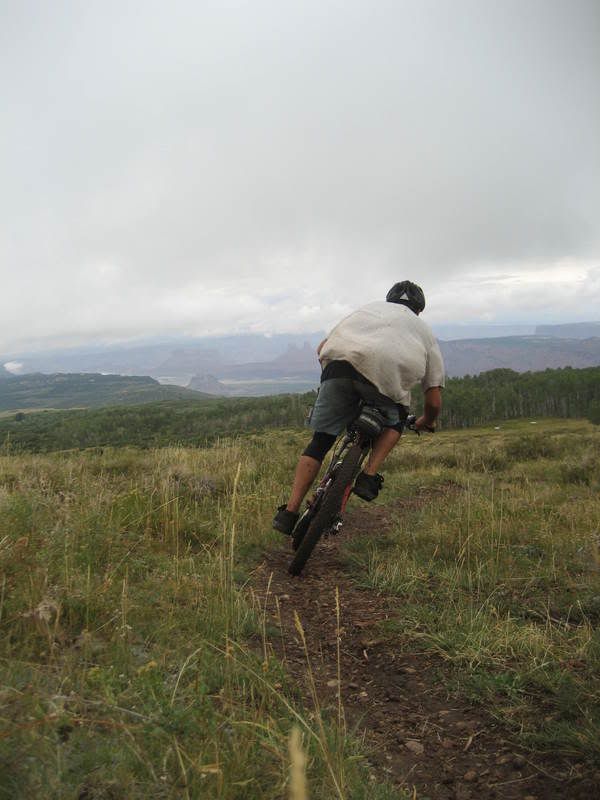 Poseur shot on LPS...
Lil' Bobbi on Porc...
Glamshot on Porc...
Anch at the bottom of Porcupine Rim...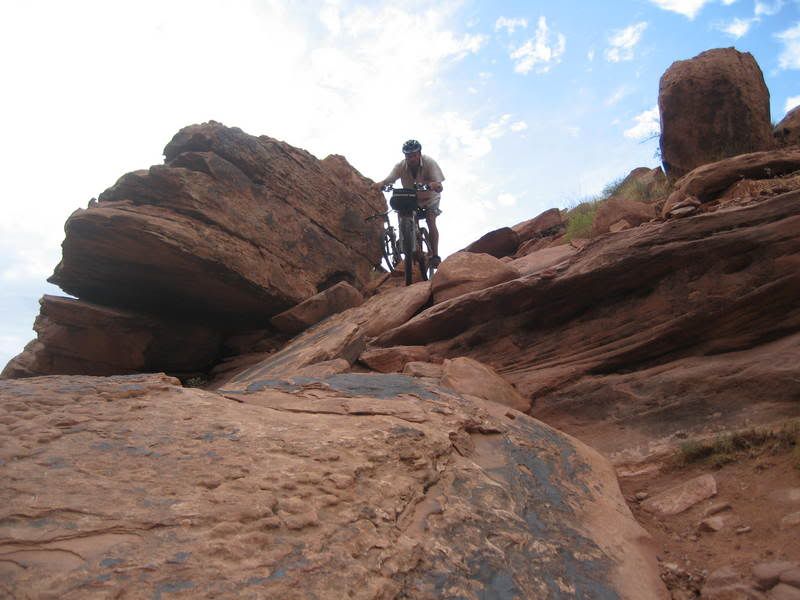 Seconds before dissaster on the bottom of Porc...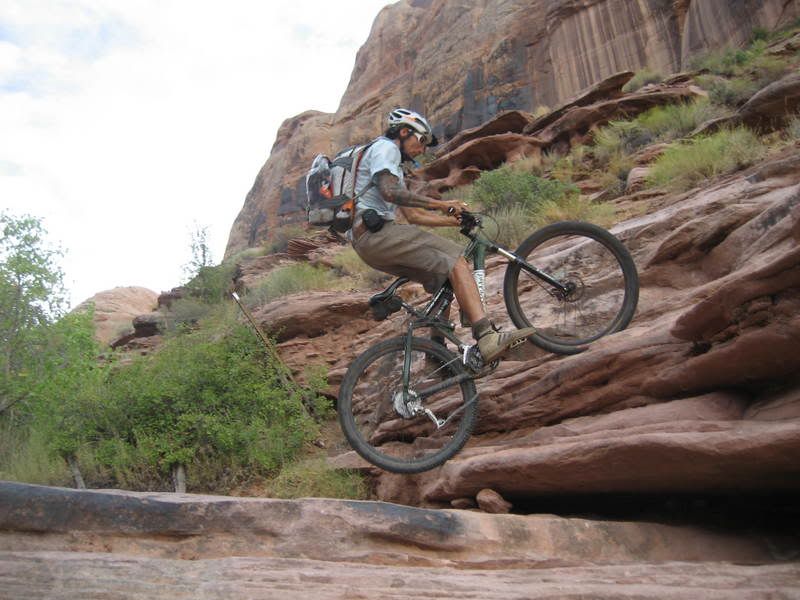 We clocked in right around 35 miles for the day, 90% downhill.
250 miles and just over 21,000' of climbing. Not bad for a week's work
As for this trip as a whole. Excellent! Even better the second time around. We did take some new routes, so that kept things fresh. If you are thinking of doing this trip, I would keep a few things in mind. You are on your own so learn how to read maps, pack lite, and work on your bike. Be prepared for anything. Any mechanical you can think of. Bring parts to keep you rolling. Computers (properly calibrated) are a MUST! From reading the log books each night in the huts, I think the biggest issues people face are mental. It sounds to me like people have a really tough time being away from it all. Complaints of food and poor directions were the biggest gripes. Directions are good if you use a your computer/ map/ GPS together. Mark all huts on the GPS. This will help in event you do get lost. As for the food, there is TONS of canned food and I know they check those huts every couple of days. Sure, bread was moldy in a couple huts, but what do you expect. It gets to be in the 110's during the day. Eat something else. Anyway, enough about the whiners. Go on your tours with gourmet meals and wine tasting if you cant hack it. Back to packing lite. Only one guy had a rack this year and eventually ditched it as he got sick of crashing on the single track. And there is plenty of single track if you do your homework. We all carried handlebar bags and all but one carried camelbaks.
Pack list was a little something like this...
Seat bag:
1 tube
multi tool
der hanger
patch kit
spare chain pins and quick link
Handlebar bag:
lycra tights
wool long sleeve jersey
rain coat
desert hat
rear der, cable and 2nd hanger
2nd tube
Camelbak:
100 oz water
2 sandwiches, Sharkies, etc
5 spokes
10in Adjustable wrench
Maps
Journal
Cassette tool
Spoke wrench
Keys
Wallet
Pen
Chain lube
Wire ties
Toes straps
Duct tape
Lights
See you next year.